Jaguar 3.8/4.2 6 Cyl (3 x 45 DCOE) - FULLY CALIBRATED
---
Jaguar 3.8/4.2 6 Cyl (3 x 45 DCOE) - FULLY CALIBRATED
£2,245.50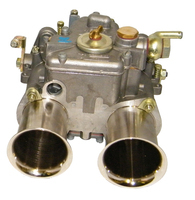 One of our 'Classic Power for Classic Cars' collection.
Weber performance conversion kit for Jaguar 3.8 & 4.2 engines like the ever popular E-Type.
The kit includes 3 x 45 DCOEs, inlet manifold with drop linkage and mounting kit.
This kit also comes with a Weber Tuning Manual.
Comes FULLY CALIBRATED to a known Jaguar calibration.
*************************
If you would like this kit uncalibrated please call us on 01293 533843